Staging Your Home
A Valuable Key to Selling Your Home
In the past, preparing a home for the real estate market simply required sellers to do a little de-cluttering, maybe paint the walls a neutral color, and bake a fresh batch of cookies before an open house to add the perfect scent of home.
Today, these basic concepts still hold true. A property must be priced right and look better than the competition in order to sell. The difference is that more advanced techniques and methods are now being employed in the form of home staging. Without it, sellers are losing the competitive edge.
Using design and conceptualization techniques, and a little buyer psychology, home staging emphasizes a property's strengths and minimizes its flaws. In addition to basic cleaning and de-cluttering, staging considers color and lighting, as well as the paring down and positioning of furniture. The objective is to make a home both compelling and attractive so that potential buyers connect emotionally to the space and can see themselves living and entertaining there.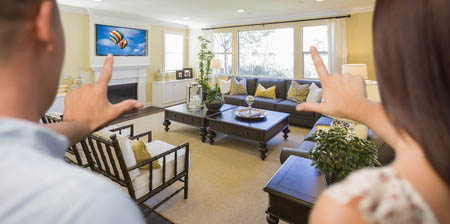 Proper staging can help you sell your Saratoga home faster, and possibly even for a higher price. In fact, a recent article in The New York Times shared detailed accounts of bidding wars and mobbed open houses on properties that, prior to home staging, had just been sitting on the market.
Staging has evolved into a booming business. Sellers have the option to hire professional home stagers who, like interior designers, can come into a home and literally transform the space, while consultants offer a less costly alternative, providing suggestions for sellers to do on their own.
Whether you're planning to hire a pro or want to do it yourself, here are a few tips to consider when staging to sell.
•    Detach yourself from your home. Staging takes the focus off the homeowner and puts it on the buyer. It's tough to admit, but we all have a little bit of ugly in our lives. If you're having a tough time stowing away personal items, hiring a professional can help you see the benefits.
•    Know your buyer. This is the key to staging because it helps you determine the specific style you want to evoke. Is it a new family just starting out, or an older couple looking to downsize? You may even want to ask your real estate agent for help identifying your target market.
•    Match the décor to the home price. With staging, selling a home is more about selling a lifestyle, so it's important that the furnishings match the home's value. For example, the sofa in a luxury penthouse should be different than the one in a two-bedroom cottage.
•    Consider color. Color can depend largely on location. Brighter, more eclectic hues tend to work in metropolitan areas, whereas neutrals and muted tones are still better for homes in less urban places. Be wary of reds and deep greens, as they tend to photograph poorly.
•    Accessorize. De-cluttering is important, but details matter. Once you've pared down, consider layering back in a few accessories that create the lifestyle you want the home to project. Stay away from elements that appear staged. Remember, the idea is for the space to look lived in.